S-tec QCS-S System
S-tec QCS-S System is designed to compete at the highest level with systems from around the world. It incorporates sensors of the highest accuracy and CD resolution. The system is made using the best components available from wherever in the world they are to be found. In this way the standard of this system is the highest.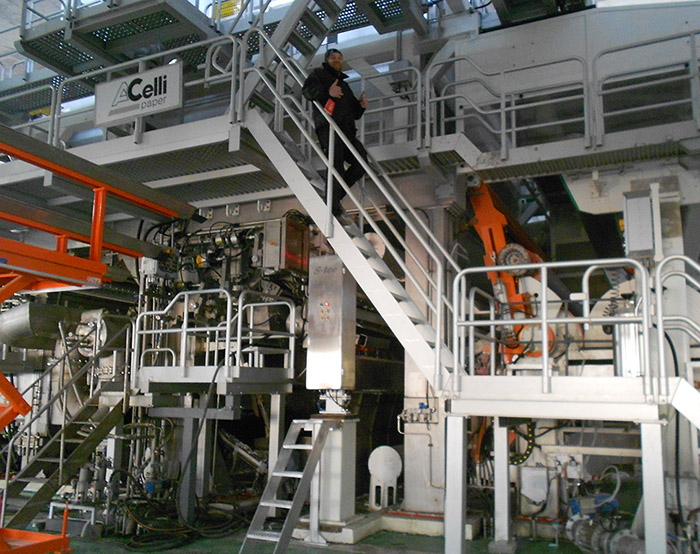 S-TEC QCS ON 2000m/min A.Celli 5.6m Tissue Machine
The system is designed to be used with CD actuators. It has accurate CD profile positioning and resolution coupled with the small "spot" sizes of the sensors. Interface to foreign CD Actuators can be by OPC or other means.
The scanner is physically very strong with excellent mechanical alignment.
The box-beam construction with radiation shielding stainless removable covers means minimum frame distortion even in hot locations. For very hot or dusty environments a blower is used to pressurize and cool the scanner frame.
the scanner uses very strong and rigid, 40mm diameter linear rails with ball bearing bushings, rather than simple wheels on tracks like others. In this way the sensor head alignment is better than any other on the market with minimum head alignment error in each dimension during scanning.
The scanner is intelligent and uses a very rugged industrial single board computer.
All software for the scanner is stored on compact flash memory which can be removed and replaced as a spare part.
The Operator Station displays all the sensor and process information such as profiles, trends, process variables, as well as functioning as an engineering workstation with password protection.
All displays are web based and can be customer configured using Microsoft Front Page or Macromedia.
A full range of accurate sensors are available including: Kr-85, PM-147 or Sr-90 Basis Weight; Infra-Rad Moisture; Microwave Moisture; Ash; Caliper; Temperature.
All seneors are mounted in-line in the Machine Direction with the standard head comprising 3 sensors and 2 edge of sheet sensors. For Larger systems a 4 sensor head is provided with additional sensors mounted outboard.
Vortex compressed air cooling of the sensors via heat exchanger and fan. No troublesome water cooling.
The inte2:47 PM 5/06/2015lligent scanner is independent and computes all sensors related data such as scan averages, profiles etc. It communicates over 100mb/S Ethernet with other nodes for display and inter-scanner computation of coat weight profile.
The S-tec QCS-S system is an excellent choice where a high capability system is needed at an affordable price.
S-tec QCS-S System for Crepe Tissue
The S-tec QCS-S System for crepe Tissue is designed to handle the extreme dust and adverse environment of a high speed Crepe Tissue Machine while providing consistently accurate measurement and control.
Sensor Design
Crepe Tissue can be as light as 11gsm for Facial grades yet the expectation is that the QCS system can measure with a repeatability of only 0.1gsm. The key to achieving this sensor accuracy is: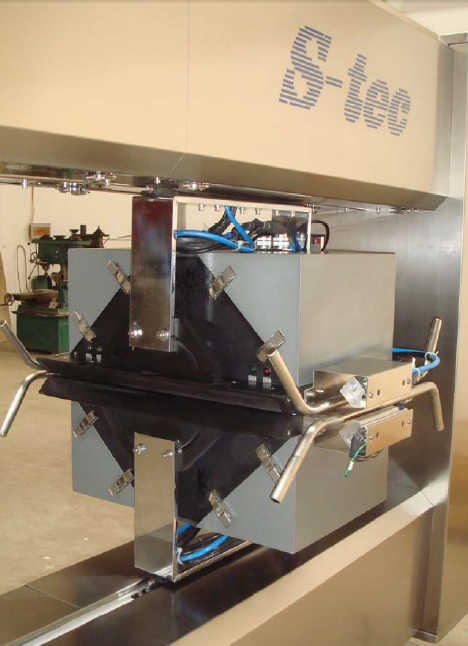 Seneor Heads
Eliminate all dust on the sensor windows.
Condition the air gap so that air density changes due to temperature are eliminated (instead of just trying to compensated for variations).
Sensor design to avoid any sensitivity to formation or scattering coefficient.
The S-tec QCS system achieves these vital objectives by:
A very small sensor gap while ensuring easy and unobstructed sheet guidance and passage through the sensor gap.
By having a sensor gap of only 5 or 6mm, we can achieve excellent gap conditioning in the area of the sensors even on a high speed tissue machine.
Flush sensor windows for all sensors, so no places for dust to accumulate.
Hot, temperature controlled air is emitted through a 0.5mm slit all around each sensor. this has 3 important functions:

Stops the sheet from touching the window
Stops the dust from settling on the window
Conditions the gap air to be a constant temperature, a constant humidity and therefore a constant density

Ionizing Air Wipes. These have three important functions:

Blow off most of the loose dust from the tissue as it enters the gap.
Removes the static charge from the dust so that it does not stick to the windows.
Overcomes the boundary layer of air trained by the high speed sheet.
In these and other way, the S-tec Seneors achieve excellent measurement accuracy on tissue and can achieve continuous automatic Basis Weight and Moisture Control where other systems must simply monitor.
Scanner Design
To achieve consistent measurement of Crepe Tissue on a high speed machine, The sensor alignment and sensor head stability must be excellent. S-tec achieves this by:
Very sturdy internal structure. We use a steel box-beam structure either 360mm high by 200mm wide, or for very large machines 400 high by 200 wide. This is stronger and more rigid than any other scanner.
The scanner covers are made from stainless steel and are sealed. An external powerful blower circulates air between the internal structure and the outer covers to ensure uniformity of temperature and therefore temperature stability of the frame.
Head positioning accuracy is ensured by using four 40mm diameter liner rails with Rextroth Linear Bearing Bushings. The S-tec heads (even the lower one) do not move even when pushed hard.
45mm wide, steel reinforced, PU, T-10 drive belts, made by Megadyne(Italy), position the heads in the CD direction relative to each other during scanning.
The Omron Inverter drives an SEW motor/gearbox for consistent scan speed, acceleration or deceleration.
Crawl speed is used for automatic alignment of the heads. Automatic separation and realignment of the heads allows us to use a small gap, since separating the heads to check the windows is so easy.
The scanner is intelligent and uses a very rugged industrial single board computer from AMPRO in the USA. All software for the scanner is stored on compact flash memory which can be removed, copied, replicated and replaced as a spare part.
Measurement is through the A/D of a Diamond Systems (USA) DMM-32DX I/O board rated at military spec of 85 Deg C. The A/D conversion rate is up to 250,000 16-bit conversions per second. The S-tec system measures continually between Data Box boundaries to ensure full measurement of the paper.
Sensor Options
A full range of Tissue sensors are available including:
Pm-147 Basis Weight Sensor.

We do not recommend Kr-85 for light weight Crepe Tissue.

This sensor is exceedingly accurate.
We use a 500mCi Pm-147 source to ensure that the source only needs to be changed every 5+ years.

Infra-Red Moisture Sensor.

This multiwavelength, random-scattering optics sensor for the measurement of tissue moisture.

This sensor is insensitive to basis weight, formation of the tissue or scattering coefficient. It uses offset, random scattering optics where the IR photons pass between gold, diffusing mirrors and therefore through the tissue very many times.

Infra-Red Sheet Temperature Sensor.

To show the sheet temperature profile. We use a Raytek OEM unit for this purpose.

BWIR Sensor.

This mulit-wavelength Infra-red sensor can measure the Basis Weight and Moisture of Crepe Tissue in one sensor. The advantages are:

BWIR Sensor

Single sensor design.
No need for Pm-147 radioactive material.
The measurement of Celluose in the paper allows the sensor to detect the paper reliably for edge to edge sheet measurement and width calculation.
The BWIR Sensor uses multi channel Infra-Red measurement to be able to measure both the Basis Weight of the tissue and the Moisture content of the tissue to a high accuracy.
Internal 2-Stage controlled cooling of the USA made precision IR detectors ensures stability of the measurement. In addition powerful external peltier coolers, with heat sink temperature control ensue that the sensors can stay in a controlled range.