Swift-Spray CD Moisture Control System
S-tec CD Moisture Control System is designed to achieve the best possible CD Moisture Profile on all grades of paper from newsprint to heavy board.
A good CD Moisture profile means better paper quality, better machine runnability, calendering and winding. In addition, it allows higher average moisture for a fast R.O.I.
The system is designed to be simple; it is easy to maintain & is highly reliable. Solenoid operated stainless steel spray nozzles are sized for the application. Water is sprayed on the dryer parts of the paper in order to flatten the profile.
Zone widths can be from 85 mm to 150 mm. Each zone is a set of 4 solenoid operated spray nozzles giving 16 levels of spray by binary combination. The spray frame is Stainless Steel and when combined with our Water Preparation System has a long life with minimum maintenance.
The Swift-Spray CD Moisture Control System is a good choice where a higher average moisture and flat profile are required with reliability & low maintenance costs.
Highlights:
All Stainless Steel Construction
Retraction mechanism or fixed bracket mounting under cylinder
Zone spacing from 85 - 150mm
Hydraulic atomization, no compressed air is needed
Zone nozzle/solenoid assembly is easily removed for maintenance
4 nozzles per zone (5 in special cases)
Binary nozzle water flow giving 16 levels of water spray (0 - 15)
Nozzles are sized for the application
Micro-filter is installed in every spray nozzle to minimize blocking
Nozzles are easily removed by hand
Nozzle angle is pre-set for correct zone width and an even spray pattern.
Test feature assists maintenance - automatically operates nozzles in turn for zone and spray verification.
Advantages of Swift-Spray CD Moisture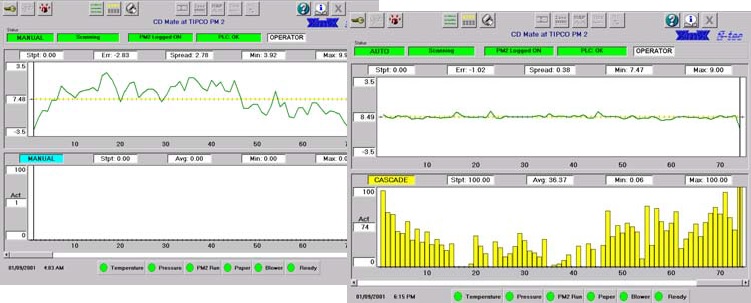 ACTUAL RESULTS FROM SWIFT-SPRAY SYSTEM ON A 7.4M NEWSPRINT MACHINE
Profile improvement was >80% and the Average Moisture was increased from 7.5% to 9%.
100% Stainless Steel frame construction, fully reinforced for web widths up to 10m.
The frame is sealed and pressurized with an air blower to keep water out.
Rear access doors allow quick & easy maintenance.
Simple nozzle removal by hand with a 90 degree turn.
Easy removal of spray assembly via rear access doors.
Quick disconnects of zone water pipe and signal cable.
Option fixed bracket or pneumatic retraction mounting.
Mounting is under a dryer cylinder with nozzle tips 200mm from the sheet (for 100 mm zone width)
Zone spacing from 85 to 150 mm is available.
Zone nozzle/solenoids are in sets of 4 (or 5 if needed).
Nozzles are hydraulically atomized with constant pressure water; therefore no compressed air is required.
A micro-filter is installed inside each nozzle in order to minimize plugging.
The nozzles are sized for the application with each nozzle in the group a different size, typically in the ratios 1:2:4:8. This gives 16 levels of spray per zone.
All solenoids are 24Vac operated for safety & reliability.
Solenoids are switched from the Control Interface which uses Solid State Relays.
The CD Moisture Control Operator Interface is easy to use and the superior control algorithms achieve optimal performance.
The system can be linked to most quality QCS systems either by OPC or by a Serial Link.